About Us
We think of the big picture, more accessible information for ALL stakeholders will increase patient safety, innovation, and will translate into faster execution and better quality of life of professionals and patients. MedBoard was founded on the idea that medical technology information should be trusted, accessible and easy to review.
This is why we built MedBoard.
We believe that every organization and professional should have access to a technology platform like this.
We believe in humans, and their expertise and knowledge, and we believe the decision making is with them. Our platform, search engines, tools and automated workflows are built to maximise human ability and empower you. And also it has been designed in alignment with the expectations of regulators, agencies and notified bodies.
At MedBoard, we love when we hear this type of feedback: 
"this used to take me 3 weeks, now it takes me 10 minutes"
Our focus is on automating and making easier your work and the most cumbersome and complex tasks.
Our mission is to organize Medical Information & Data through Digital Integration 
and build customer-centric applications based on evidence
The leading approach for Information accessibility, solutions and intelligence in Medical Technology
>  Many Organizations already trust MedBoard, from larger multinationals to start-ups
>  Teams are saving vast of time in repeated tasks and searches
>  An online, scalable platform that will transform your business
Awards & Achievements
In our short life we have already won awards and achieved milestones that we are super proud of! We always say that our customers and satisfaction is our best ever award, but we also have some good moments to share:
> MedBoard is proud to have collaborated with MHRA and UK Government and have helped within the process of the Covid-19 ventilator challenge in 2020. MedBoard task was to rapidly analyse millions of historical PMS data related to Mechanical ventilators (FSCAs, Adverse events, etc) in our platform, and draw patterns using different techniques, delivering detailed summaries and statistics, providing valuable insights into potential failure modes for new ventilators, in order to build next steps and actions. This shows how trusted is MedBoard in Industry. Learn more about our contribution in this article here.

> What a night! MedBoard won the prestigious TOPRA Innovation Award ahead of Merck & Co, Inc (USA). We are extremely proud of this award, as it was a joint nomination sent by many of our customers. This award is for them!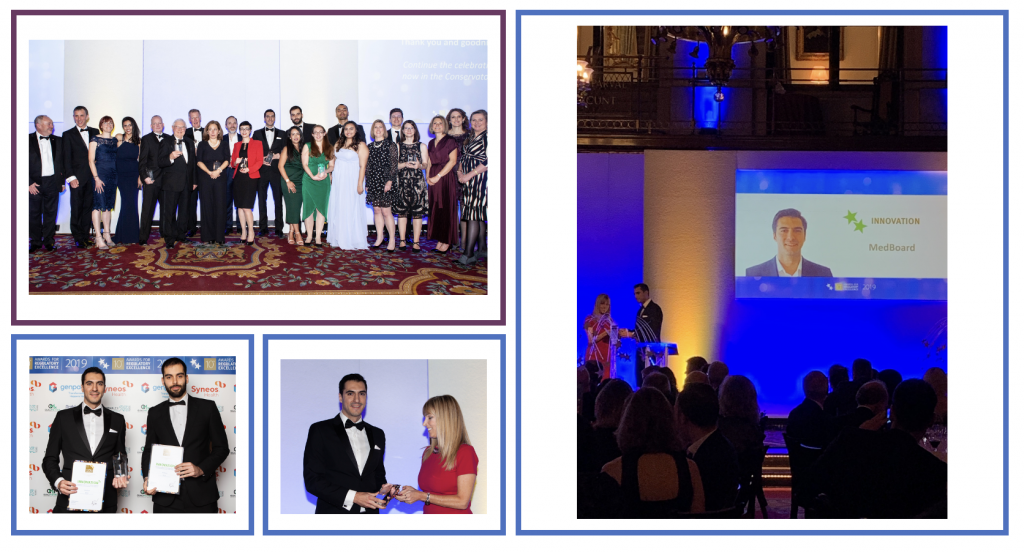 Our Journey
> May 2018 – First MedBoard prototype platform was launched in collaboration with medical companies and experts. We validate our idea and engage with organizations to understand what are the main needs and market. We obtain very valuable insights and inputs that will be key for the future success. Ivan, Javi and the rest of the original team starts working on the big data platform while continuously developing the prototype. Significant investment and R&D is put into the validated idea while continuously gathering more inputs and requests from our current and new customers.
> May 2020 – Current Big Data MedBoard platform version 1 is released. We get great feedback from companies and customers, we receive continuously requests from customers to add more features and content, it is time to deliver!
> May 2022 – MedBoard Platform achieves 50 Million resources in the search engine and information portal. MedBoard achieves key number in customers and sales growth. We keep growing organically and reinvesting profit into the product, we are already beyond breakeven, most of our new customers (<80%) come from word of mouth. We continue heavily investing in R&D, science, engineering and development (<60% of revenue) to keep developing more and more solutions!
Our Journey has just started!
Partners & Collaborations
We partner with experts in the industry that helps to implement our processes and solutions. 
We collaborate with top class organizations in the medical industry to raise awareness about research, intelligence, automation, and the importance of accessing up to date quality data, and helping with newsletters, reports, and many more.
Data & Search Integrations
Interested in Licensing MedBoard Data?
With Data Licensing and APIs, whether you have your own system or platform, RIM, or QMS, you can use our data to bring the best in class data to your customers.