Platform Content Access and 
AI 
P
owered Research
Content, News, Databases, Analytics, Profiles, Intelligence, Resources, and Tools.
Access information like never before, from the big picture to extreme granularity, and to continuously connected intelligence.
What normally takes weeks, days or hours, now it is a matter of seconds with MedBoard. The full landscape and ecosystem at your fingertips. Separated into five different sections for easier navigation: Regulatory, Clinical, Market, PMS and Standards.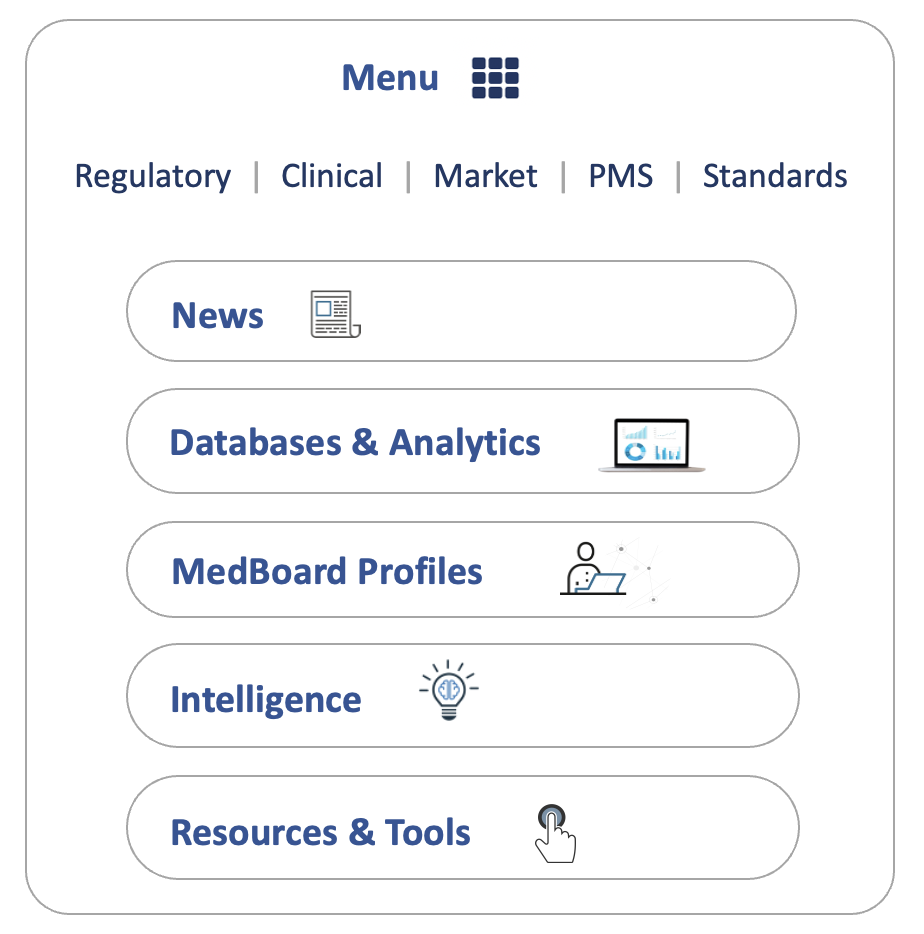 MedBoard powerful up-to-date platform provides news every day in near real-time, instant to you. You can access to them through the NewsFeed, MedBoard Search, Individual Databases or Profiles.

Regulatory News
225+ Countries, Multiple Authorities in 10+ Regulatory Areas

Clinical News
Millions of trusted sources, including hospitals and trials.

Technical Standards News
10+ Standards Institutions and Authorities, 30k+ Profiles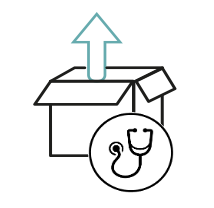 Market News
Thousands of Manufacturers and Million of Products latest updates
Event News
Hundreds of events delivered by Authorities, Associations or Actors
Databases: Dedicated, Curated, Up to Date, and Easy to Search
MedBoard Search provides the full picture with MedBoard Search, but there is more… unique large databases by information type, with additional filters, analytics studio and many other research tools.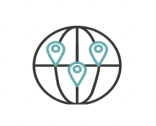 FSCAs & Recalls
100,000+ in 30+ Countries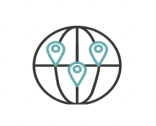 Adverse Events
20 Million+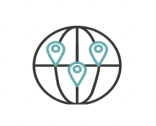 Safety Alerts
10,000+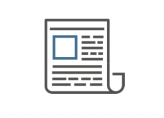 Clinical Literature
50 Million+ (inc. PubMed)

Clinical Trials
750,000+

Clinical Guidelines & HTAs
50,000+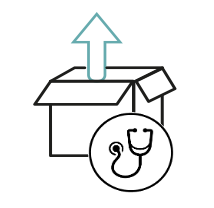 Registrations & Approvals
10 Million+

Documents
50,000+

Many more Databases
50+
Analytics & Insights: Visualize Data Faster & on the Go
Analytics Studio integration with databases: Search, Filter and Visualize data without the need to use endless hours exporting, copying and pasting into columns in excel and generating graphs. With a query and simple click get access to all information and graphs instantly:
Understand device's top problems within your area of interest or device types using the analytics.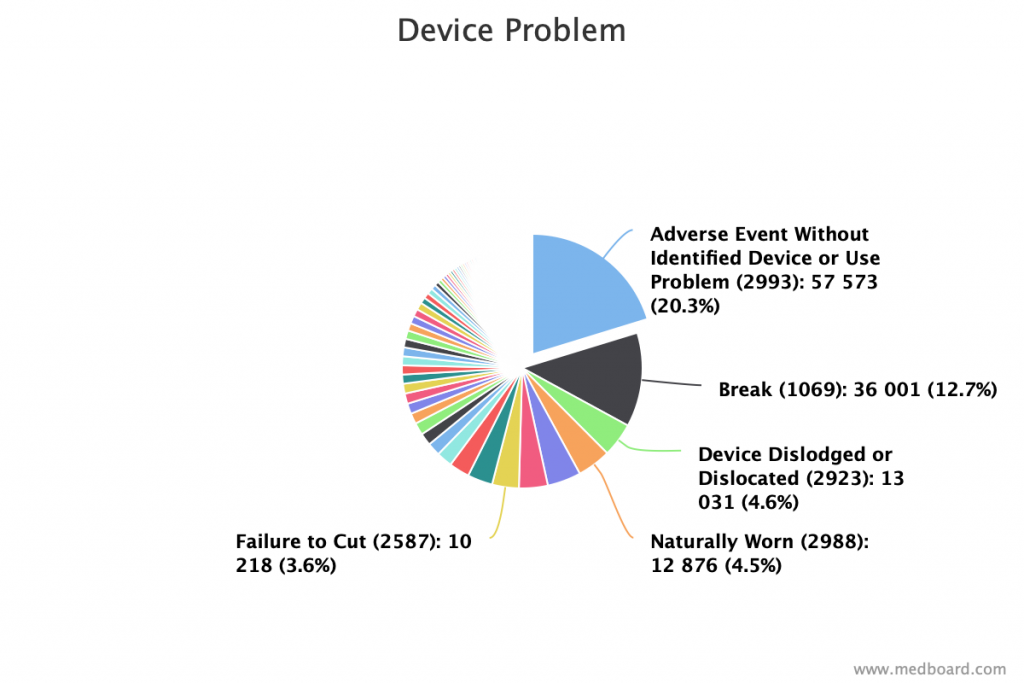 Find which manufacturers have more trials, recalls, literature and many more with just one click.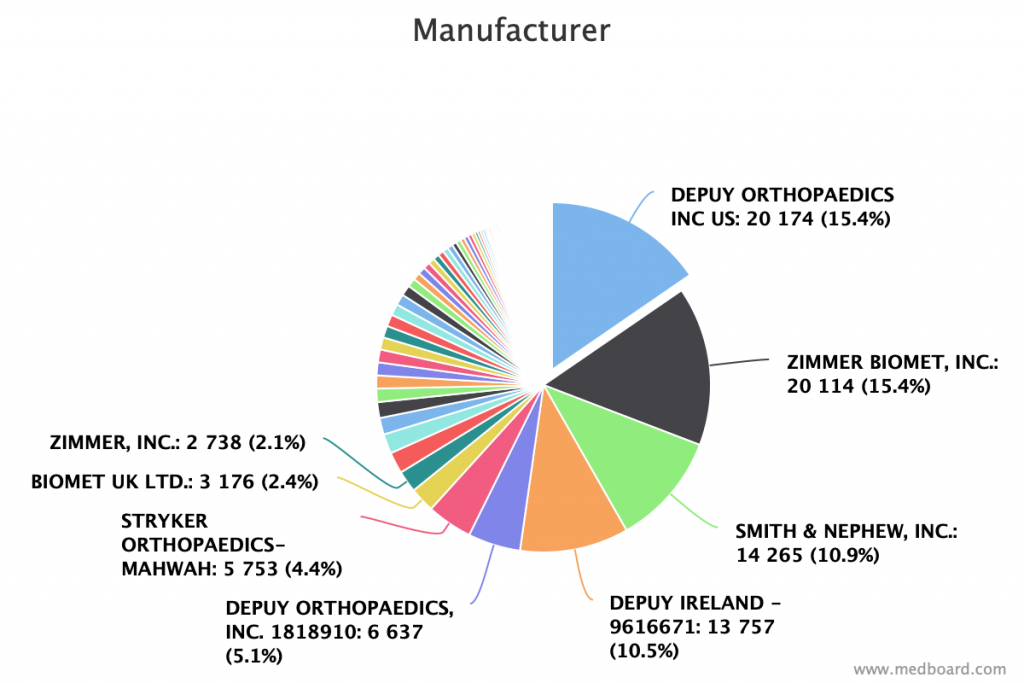 Use databases analytics as patient problems as an input to your organization and processes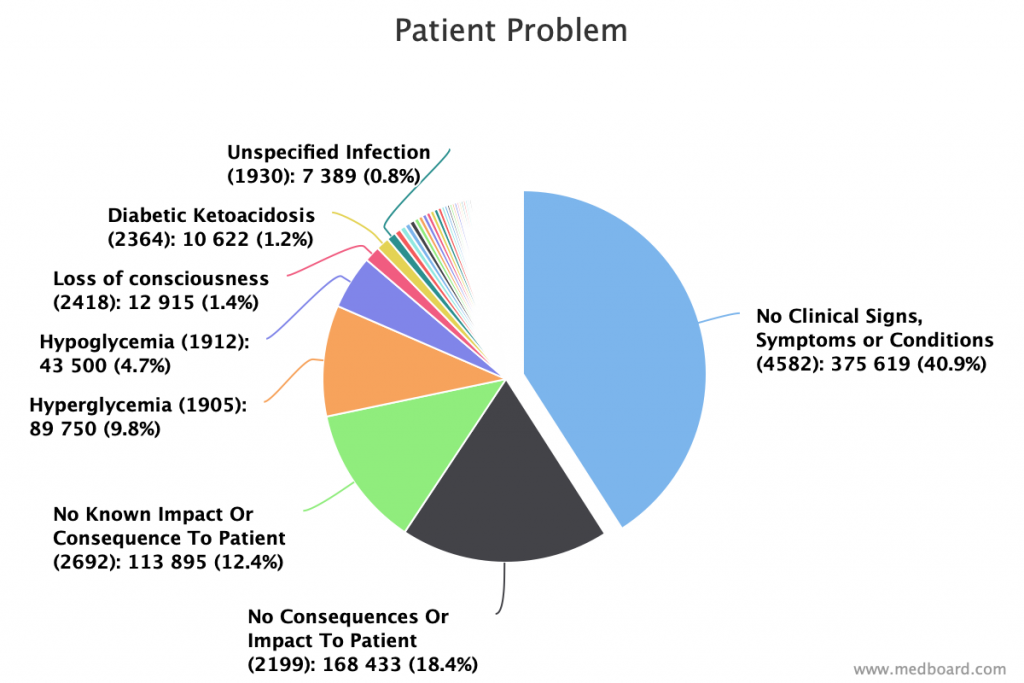 Medboard Profiles: Find Countries, Actors & Products on the Market and get their latest related information
Millions of profiles with up-to-date integrated information and data, instant to you. A centralized location where to access instantly to all the news, safety information, analytics, clinical developments and many more related to a profile, where this has been published by public and trusted sources (e.g. authorities or governments). Profiles types include: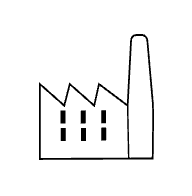 Manufacturers
100,000+

Countries / Authorities
225+ / 1,000+

Technical Standards
30,000+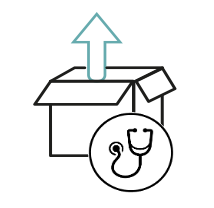 Medical Products
100,000+ Medical Devices, IVDs, Apps, & Medicines brands.

Treatments & Conditions
10,000+

Hospitals
10,000+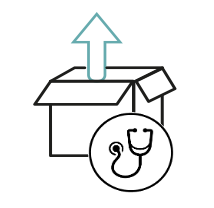 Device Types
30,000+

Medical Specialties
100+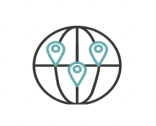 Many more Profile types
100,000+
Content, Solutions, and curated human intelligence delivered to you in multiple formats, in the areas of Regulatory, Clinical and Market.
At MedBoard, we cover with our data and enterprise solutions all fronts for you to excel at Intelligence:
– Continuous & Instant Access to Trusted Organized Information (News, Documents, Extraction of Information, Databases, Tools, Profiles, etc.)
– Continuous review Process of Changes & Updates
– Human Knowledge and Repositories
In addition, learn more about our Premium Regulatory Intelligence package that includes 100,000+ up to date regulatory summaries in more than 225 Countries in more than 10 Regulated Areas, including MedTech, Pharma, Digital Health, Electrical Safety, EMC, Packaging, Environmental & Waste, Chemicals, Cybersecurity, Artificial Intelligence and many more.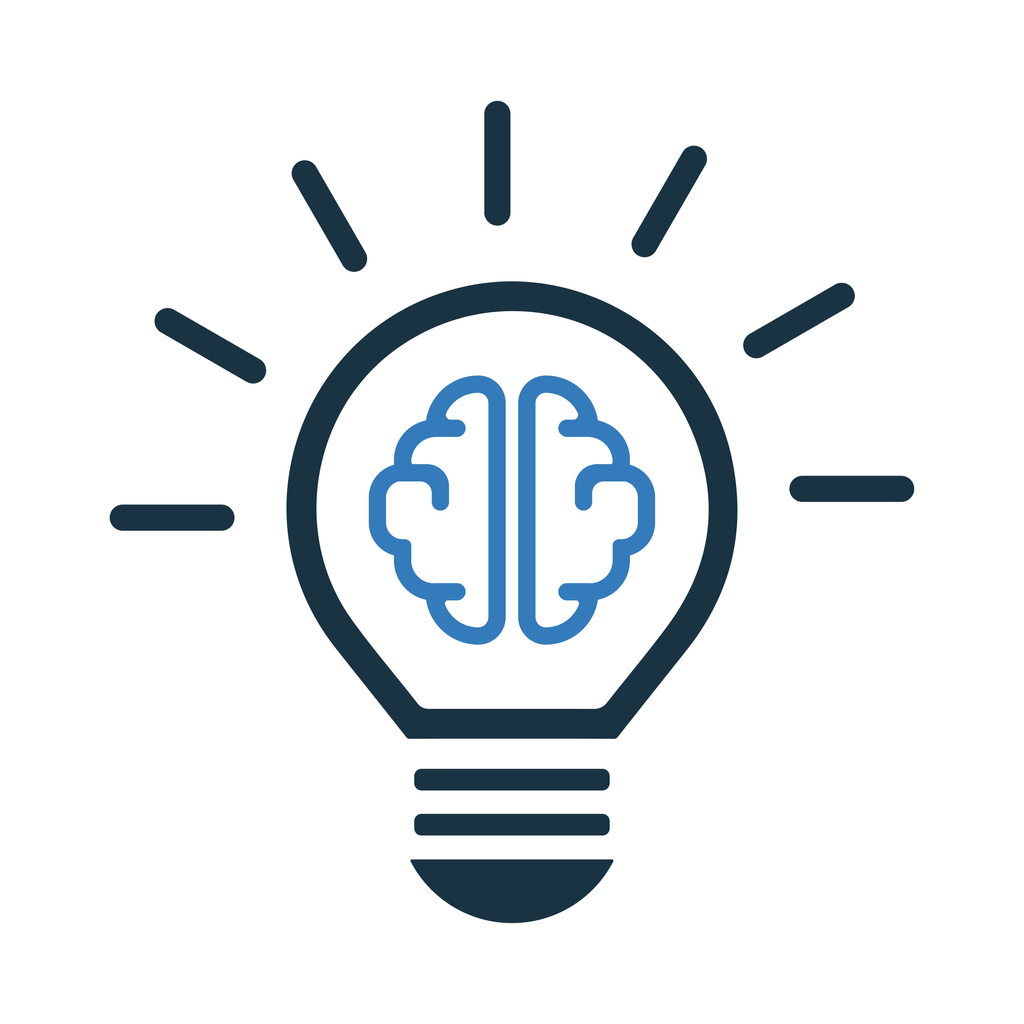 Resources & Tools: Understand Data, Connections, Trends & Insights faster
Content is complemented with unique proprietary resources and tools for professionals, in Regulatory, Clinical and Market. Such as:  ancillary resources such as reports, insights, rankings, predictions, trends and many more: 
• US FDA 510(k) Tree Navigator
• Document Viewers
• AI Data Extractors
• Translations
• Dictionaries
• Documents and AI data correlations
• Daily, Weekly, Monthly and Yearly Reports delivered continuously
• Insights for PMS
• Rankings associated to different databases such as Recalls, Adverse Events, Trials, etc.
• Data Predictions
• Trends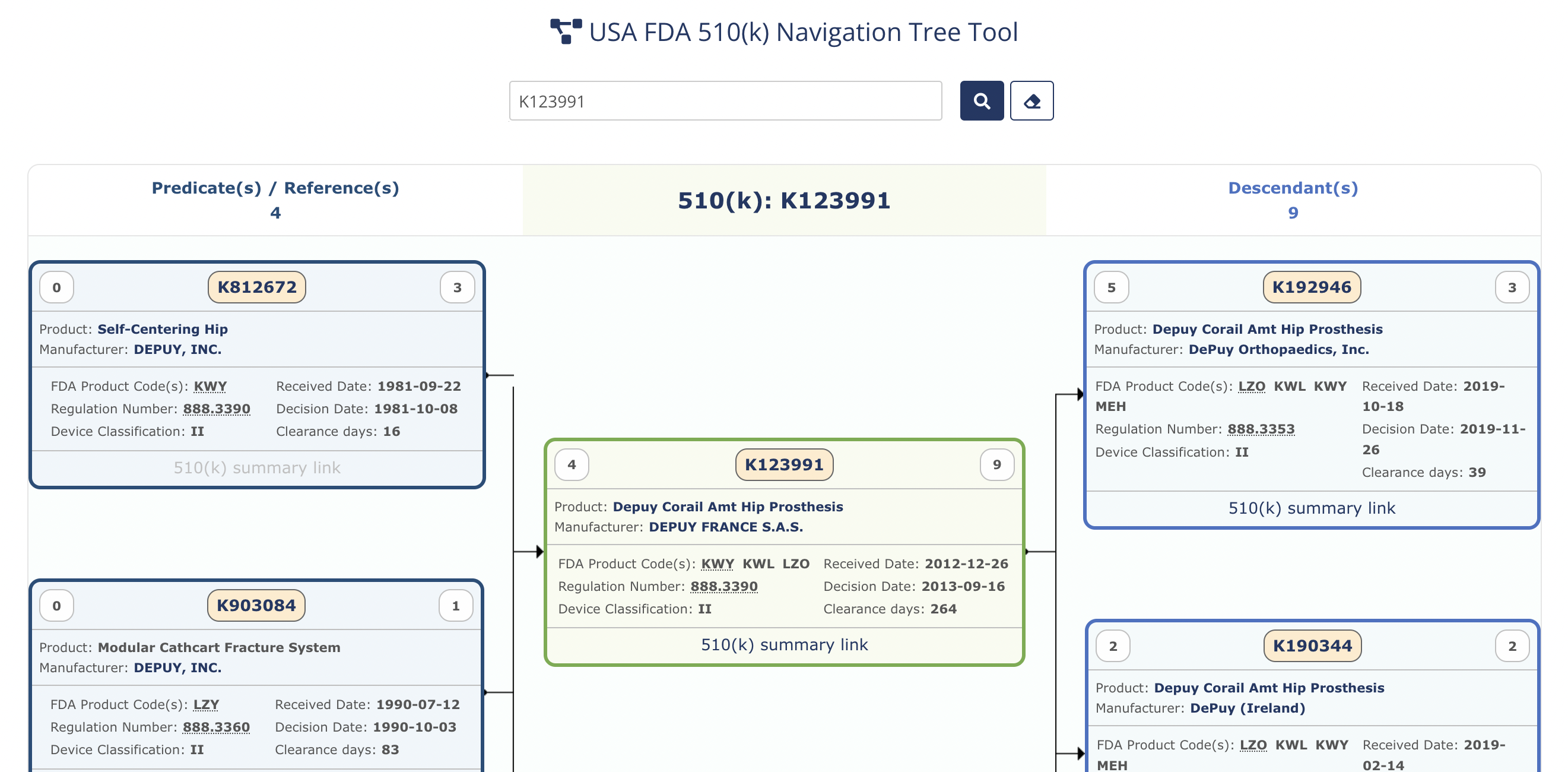 MedBoard Databases are integrated seamlessly with the Systematic Reviews solutions, this opens a unlimited possibilities to use our databases for Surveillance, Intelligence, Literature Review, Research, PMS and many more.
MedBoard also has a function for users to import data and information and complement even more their private repository.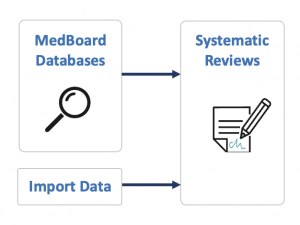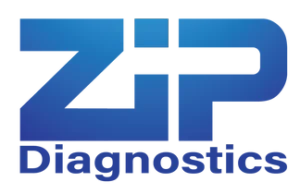 ZIP DIAGNOSTICS  Medical Devices Manufacturer
"" We are enjoying using MedBoard very much. The combination of scientific, regulatory and market information in one well organised place is very appealing to us. It has significantly reduced the amount of time and effort we spend in many areas.

Ready to Get Started?
Request a free demo today to see how MedBoard can transform your evidence transformation journey