MedTech: How to master Regulatory Intelligence
by Ivan Perez Chamorro, CEO
The Problem

Why NOT to use Regulatory Intelligence

The Regulatory Intelligence Toolkit

The Regulatory Intelligence Process

Define your Regulatory Intel

Why MedBoard and to Digitize

What about AI? (Part 2)
 Are you (too much) familiar with the problem?
Struggling to keep up to date, continuous changes in many jurisdictions and countries, tedious manual work, delayed or lost impact assessments, audits preparations in the last minute, difficulty to keep meeting regulatory, clinical and quality requirements, etc. Most individuals and organizations start with good intentions the year (or the week or the month) in relation to this requirement, but then the reality hits hard with the day-to-day priorities, affecting the consistency and the execution required to keep up to date and evaluate consistently the changes, without spending ridiculous amount of time, people, resources or/and money.
Everybody is 'feeling' it, everybody is seeing the increase and the big waves of updates coming, but not many have quantified it. At MedBoard, we can, we have the data, so let's use real data with MedTech as an example.
Let's first evaluate the number of Regulatory News and updates per month, including regulations, guidance, notices, forms and other communications published by Authorities. The graph below depicts the period from 2010 to date in 2023, where we can see clearly how until 2017-2018, the news were fluctuating around 10-20 news per month. Since 2018, there has been a dramatic increase of news with an average today of around 150 News per month. Therefore, the wave is real, and keeps growing.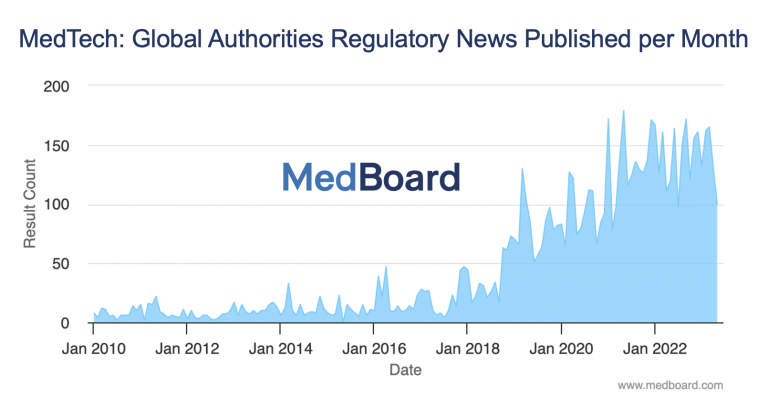 But when we look at the problem, there is not only a matter of the number of news and updates, but also a matter of the number of Countries and Authorities that are publishing news every month (each of them with their own complexities). This triggers more resources for collection, but also many more for impact assessments and implementation of actions. Therefore, the impact of this problem to individuals and organizations is not linear, it is exponential, as more countries, more time spent, more people involved, more potential number of actions and resources to be used during the review, assessment and implementation process. Likewise, the more countries covered, the higher the risk for missing information or non compliance.
Let's use again real data to analyze this problem, using a data sample, comparing the same period with 10 years of difference, let's choose for example one month, January: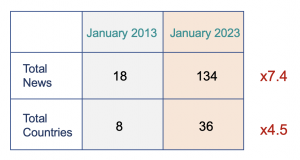 Back in January 2013, there were 18 news from 8 countries, that is it. And if you were only in the main markets (e.g. EU, USA), you had only around 5 Regulatory News to check, yes, 5, what an absolute dream!
Now coming back to the future, in January 2023, there were 134 News from 36 Countries. This is a massive increase of news to capture, record and assess the potential impact.
But you may question my statistically validity approach and my ability as a physicist for only choosing one random month. Let's raise the bet, let's compare a full year, the latest complete year (2022), with another full year 10 years ago (2012). And let's introduce an additional endpoint, for 2017, to describe the trend in more detail: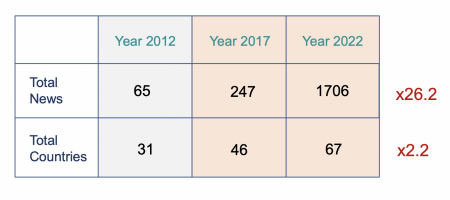 Back in 2012, the total news published by 31 Authorities was 65. Jurisdictions as the EU Commission only had shared 3 news. This was totally manageable! even by only one person. In 2022, the story was completely different, there was a total number of 1706 Regulatory News shared by Authorities (i.e. Regulations, Guidance, Forms, Notices, etc.), this is a 26.2 fold increase! 26 times more than in 2012! 
In terms of countries that have published news over the period, it has increased from 31 to 67, more than the double. This increase of course as to be put into context, the increase cannot be unlimited, and the increase will tend to zero over the years, as we have limited number of countries. But if we compare it to the total of number of regulated countries (At MedBoard, we algorithmically classify all Countries in High, Moderate, Low or Unregulated), if means that above 80% of High and Moderated Countries have shared news and updates in 2022. This means most of countries keep changing, and not only the common ones you have in mind.
Can you imagine how different the life of the regulatory professionals and organizations was related to this topic 10 years ago? Do you understand how much harder is the life of the regulatory professionals and organizations today compared to 5 or 10 years ago? Can you see a trend and where this is going for the next 10 years coming? 
Now that is clear that we have a problem, let's see what solutions we have.
Why would you NOT use Regulatory Intelligence?
We have a problem now, a big one, but in addition, we need good reasons why to do it.
The evident increase in number shown above has come as well with new regulations, standards and regulatory requirements published in the recent years that require organizations and teams much better monitoring, surveillance and diligence. In addition, there is much more scrutiny from authorities, so individuals and organizations need to monitor but also record the evidence of that decision making in reports. 
To stay in compliance and up to date, and then apply the actions emanating from those reviews, it is a very difficult job (even more if doing it manually), but it is up to you and your organization to decide:
If you do not wish to stay in compliance, and put products, organizations and patients at risk, there is no need to do RI. 
If you do not wish to meet the requirements of ISO 13485 , ISO 14971, Country Regulations, etc. No need to take action.
If you do not wish to stay up to date as individual and organization, and keep learning, why to bother? why to bother speaking to stakeholders and showing you are on the ball with the latest information?
If you do not wish to have a safety net and recorded decision making for management review and authorities, clearly, there is no need to use it.
Now, if any of the answers was yes, or as a good professional, you answered all of them as yes, then you need to use Regulatory Intelligence. 
The next question is, how? and more important, manually or digitally?
Two essential concepts for effective RI:
To master Regulatory Intelligence you do not only need positive attitude, you also need very good tools and processes, that will work for you and create predictable workflows. The following are two essential concepts that you must have:
1. Regulatory Intelligence Toolkit
The RI toolkit is composed of three main pillars:
– A. Continuous and instant access to trusted organized information, from external perspective and from internal perspective. Normally, the external environment changes very quickly and here it is where you will need solutions how you are going to access to this trusted information at any time. MedBoard offers the largest curated database covering +200 countries, designed specifically for this. This one option. Other options are a combination of saved websites, google searches, RSS (or similar products), Sharepoints or excels databases collated and continuously updated by teams and individuals.
– B. Continuous Review Process of Regulatory Changes & Updates. A Systematic Review of News with a very well established workflow, defined appraisal criteria and specific search protocol. In here you can use excels to record the decision making, or you can use professional tools, such as MedBoard.
– C. Continuous Human Knowledge. Teams and individuals need to have good knowledge of regulatory in general and the topic(s), experienced in making decisions in a regulatory context and have continuous training (external and internal). Equip your teams with the best knowledge, this is essential.
Visual Representation of the Toolkit: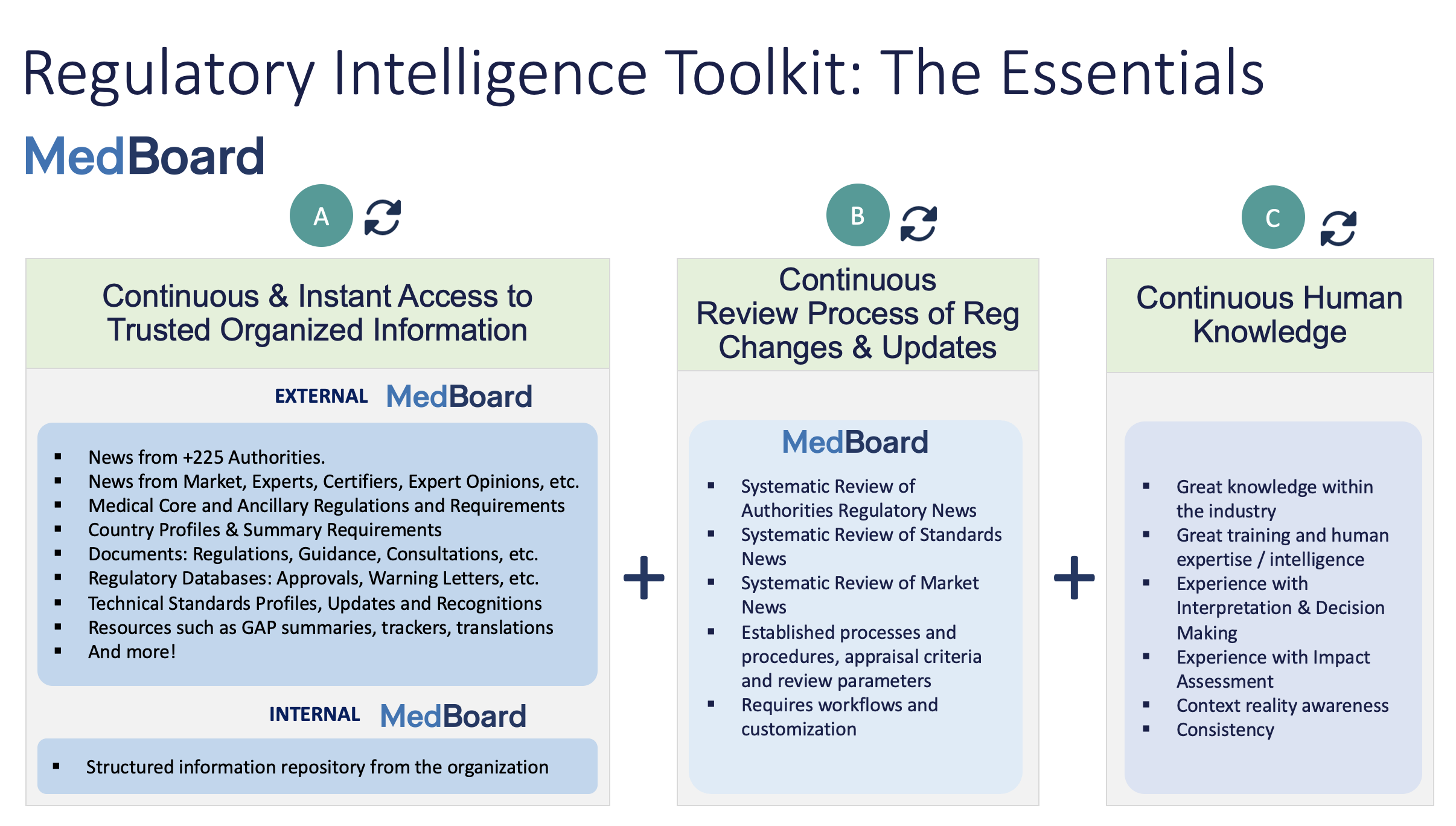 * A and B are also known as the vast land of the never ending or never finished excels,  or 'I will search in google quickly and see what I find'.
Every time you make a decision, you will need these 3 pillars: great and up to date curated information that you can trust, a good decision making process, and a very good knowledge and experience. This toolkit can be applied at any time during your daily job.
For example, MedBoard, with the largest curated regulatory database, information portal, workspaces and summaries, we cover extensively the pillar A,  but as well the pillar B, with our integrated Systematic Review process for Regulatory News and Standards News.
2. Your Regulatory Intelligence Process
At MedBoard, we define the RI process in four continuous steps, the first 2 are general for any team and organization, the following 2, requires to be customized by each organization and team. 
Here we have described the process visually: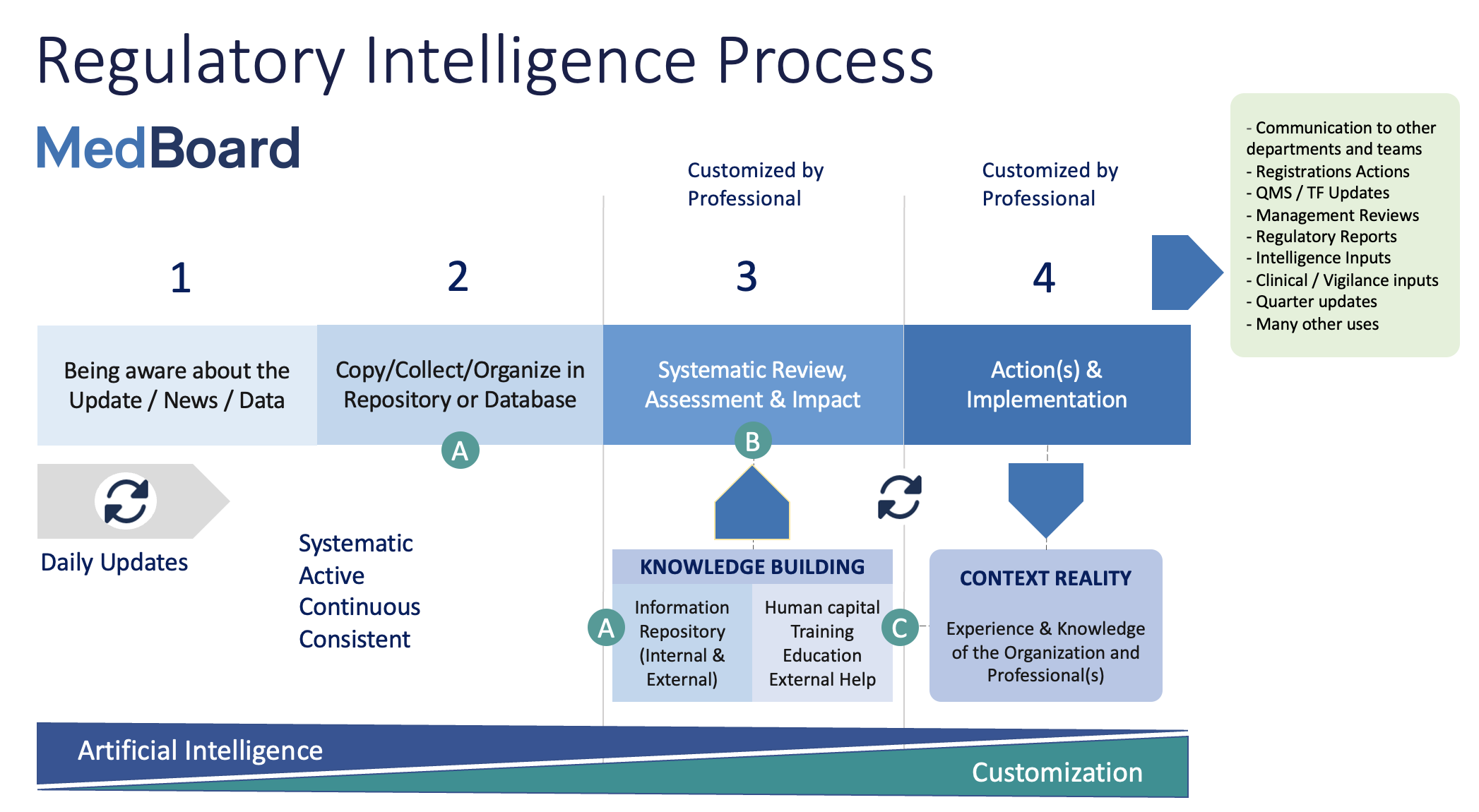 Few takeaways from this process flowchart:
– Regulatory Professionals should use their time in steps 3 and 4, rather than steps 1 and 2. The closer in the process to step 4 , the greater the need for an experienced professional who can customize the implementation to the context of the organization and its procedures.
– Steps 3 and 4 require clear appraisal criteria and recording of the decision making. The process should be defined, recorded, and use the reports as outputs of the process. This is invaluable asset for the team in the future.
– The more a team/individual makes decisions and actions in step 3 and 4, the more experience and knowledge keeps building and gets better over time. 
– Today, AI is more useful and adds much more value in steps 1 and 2,  as AI does not understand context (heavily required for steps 3 and 4) and does not capture the great quantity of inputs that a normal professional gets through multiple sources (again, essential in steps 3 and 4).
– Teams should also make use of external professional input or training when they are not knowledgeable in the topic, and learn from it for future times, encouraging the knowledge building.
In step 1 and 2 is important to capture, clean and organize the news by evidence hierarchy, so professionals can deal faster with the important items. The evidence hierarchy is going to help to prioritise more enforceable and critical regulation changes, and potentially, with more impact. It is important to keep ourselves organized. MedBoard use AI in combination with human verification to help with these tasks in step 1 and 2.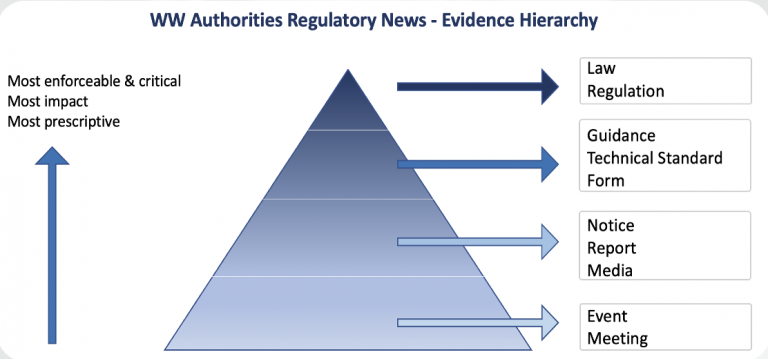 At MedBoard, as the process progresses to step 4, the importance and influence of Artificial Intelligence (AI) decreases, and the customization and human knowledge gains much more importance (of course, they understand the context). The paradox today is.. most professionals are used in step 1 and 2 where their time is taken up! (manual searches, repetitive tasks, etc.) therefore when you arrive to step 3 and 4 you are tired and questioning why did you study a degree, masters, or PhD to spend days checking social media, websites and copying and pasting in excels.
We definitely want to fix this! and we believe digital is the only answer.
Wait a second.. did we say Active, Continuous and Consistent? 
A reality check: our weeks are far from calm and no unexpected events, the normal week of a regulatory professional is unpredictable, enquiries, priorities-driven, meetings, last minute requests, travels, etc.
On the other hand, Regulatory Information is added daily around the globe… it does not wait for anyone! We all start the week hopeful, feeling on top, then the tasks and deadlines hit, and we lose track. It is normal, it is too much as we have clearly shown in previous sections. Can this process required to be active, continuous and consistent, be done by humans copying and pasting and searching all the time? and most important, should experienced and knowledgeable professionals be used for this? Certainly not.
We believe again, that digital is the only answer.
Define your Regulatory Intel
Our advice, define it well and document it:
Countries scope: what are the countries and jurisdictions you need to cover? name them and keep track of them. At MedBoard, we cover +225 Countries.

 

Regulations Areas scope: what are the regulated areas you need to cover for your organization and products? MedTech, Pharma, Digital Health, Electrical Safety, Environmental & Waste, Cybersecurity, etc.? the list goes on and on. For example, at MedBoard, we cover 11 regulated areas!

 

RI Toolkit implementation:

How are you going to cover the 3 essentials of the Toolkit? think how you and your team are going to access to information, latest updates, but also how is going to be organised and review that information continuously. And of course, whether there is enough training and experience to review and assess those news and updates. Make sure you have processes for A and B, and to capture any new updates. With MedBoard, this is digitally integrated.

 

RI Processes implementation:

 define your process step by step, and your search protocol, appraisal criteria, and systematic review process. This should include what parameters or questions (same as you do with a change note) you will enquiry any relevant news or updates for impact assessment. With MedBoard, you can fully customise this process, and also, if you are a manufacturer and your portfolio is uploaded onto our platform, you can also select the products, product families and basic UDI-DIs affected. 
Why MedBoard and why to Digitize ?
5 Reasons why digital environments and Medboard provides extraordinary value:
It provides clear benefits to individuals and terms of time, access and quality of life, and eliminates complex, repetitive and manual work. And on top of this, it creates an environment for higher compliance and predictability.
What about beyond and AI? (Part 2) in the second part of this blog about Regulatory Intelligence we will focus on how the digitization is implemented and how AI can help and how realistic is that help. Coming Soon!

Do you wish to learn more about MedBoard and this topic?
Do you wish to see MedBoard in action for Regulatory Intelligence and how it simplifies all the above with few clicks?
Ready to Get Started?
Request a free demo today to see how MedBoard can transform your evidence transformation journey